With varieties of culture, customs and amazing places tinted by the nature's reflection, Nepal can be one of the best deals a traveller make. An ultimate tour destination, Nepal is dramatically rich in mythologies, architecture and wonderful stations. Below are some of the best places every traveller must visit in Nepal.
Kathmandu Valley
Also known as the capital city of Nepal, Kathmandu valley is one the most famous tourist destination in Nepal. Before Kathmandu valley was historically known as Nepal Valley or Nepal Valley means "land of Nepali people." Kathmandu valley is bowl shaped and it is located at the altitude of around 1425m from the sea level. Kathmandu is a cultural hub of Nepal which is dominated by Newari people who is rich in culture and architecture. As there are numerous number of heritage sites in kathmandu which was built form 6 to 15 century by the different rulers of the Kathmandu. This valley is surrounded by the beautiful hills like Phulchowki, Shivapuri, Nagarjun and Chandragiri. Three famous places: Bhaktapur, Patan and Kathmandu District has been successful making this valley beautiful and eminent. The Kathmandu Valley was also designated as naturally and culturally rich place of Nepal by UNESCO in 1979. This valley generally has a climate with warm days and cold and cool nights and morning. There are also some heritage sites listed by UNESCO for devoted tourist as well as other normal tourist to visit here and the places are:
Pashupatinath Temple
Bhaktapur Durbar Square
Kathmandu Durbar Square
Patan Durbar Square
Swayambhunath Stupa
Boudhanath Stupa
Pokhara
Pokhara, also known as headquarter of Kaski district is a metropolitan city located 200 km west of Kathmandu. Pokhara is known as tourism capital of Nepal. From this place we can see the famous mountains like Annapurna (8091m), Dhaulagiri (8167m), Manaslu ( 8156m) and Machhapuchhre also known as Fishtail ( 6993m). We can also see the reflection of these mountains on the surface of Fewa Lake. Pokhara is also mostly famous for the adventurous activities like paragliding, Zip line, SkyDiving, Bungee Jumping, Hot Air Balloon and many more. And it is also a hub for the trekkers as major of the trekking of Nepal is located near by Pokhara.
Some of t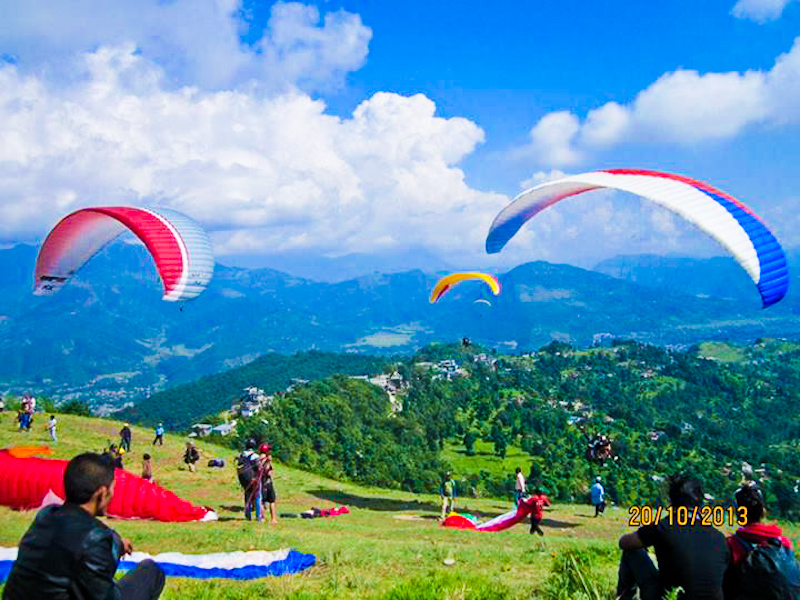 he famous tourist attractions in Pokhara:
Fewa Lake

Sunrise view & jaw dropping view from Sarangkot

Begnas Lake

World Peace Pagoda

Tal Barahi Temple

Bindabasini Temple

Bat Cave

Mahendra Cave

Davis Fall
Chitwan
Chitwan one of the famous place for tourism activities in Nepal lies in inner Terai between Mahabharat and Siwalik ranges. Chitwan is also famous for rare One Horned Rhinoceros, Leopards and Bengal Tigers, Deer, Wild Boar. Chitwan is a land of Tharu people, and this is also one common reason that most of the tourist visit Chitwan to experience and see Tharu Cultures. Tharu Culture show is one of the most famous traditional display shown to the tourist in this area. Chitwan National Park which covers 952.6km2 is really famous for the wildlife lover as well as other types of tourist. Chitwan is rich in varieties of flora and fauna. Most of the rare species including Bengal Tigers, Gharial, Rhino, Leopards, Mugger, Crocodiles, Indian Rock Python and several species of Deer can be found in Chitwan. Things to do in Chitwan:
Jungle Safari in elephant or jeep
Elephant Ride
Enjoying sunset view from Rapti River
Canoe ride in Rapti River
Tharu Cultural Show
Muktinath

Muktinath is one of the famous place in Nepal to both religious tourist as well as adventurous tourist. This place lies at the altitude of 3710m at the foot of Thorang La mountain pass so the weather remains cold and dry. The warmest time in a year is June. This place is famous for both Hindus as well as Buddhists. One of the best reason that this place is attracting much tourist from Nepal as well as from other countries is one and only the Muktinath Temple. People believe that when a person visits the Temple and take a bath at Mukti Dhara all of their sins are washed away. And not only for visiting and worshipping but also for trekking and watching and experiencing the beautiful landscapes of Himalayan ranges & people visit Jomsom. This place is also famous for Apples and its products like Apple wine(Marpha), chocolates, and dried apple. It is believed that apples from Jomsom are one of the best apples found in Nepal.
Lumbini
Also known for the birth place of Lord Gautam Buddha, Lumbini is located in Rupandehi district of Nepal. The meaning of the word Lumbini is "lovely." Lumbini has a number of different ancient temples, including Maya Devi Temple which is famous as the Temple of Mother of Lord Gautam Buddha. In the recent decade Lumbini has been attracting many tourists from all over the world mostly for pilgrimage, peaceful meditation and many more. In 1896 Khadga Shamsher Rana discovered Ashoka Pillar. And from the study it is clarified that this pillar was built during 232 BC by King Ashoka from India who came to visit Nepal to meet King Suddhodhana. Lumbini was listed in World Heritage site by UNESCO in 1997.
Bandipur

Bandipur is a hilltop settlement in Tanahun District of Gandaki zone. It is an ancient town which is famous for the settlement of people and used as a trade hub during the ancient time. This place lies in the altitude of 1030m so the climate is warm and temperate. Bandipur was established as the channel point of Newar people from Bhaktapur and Kathmandu Valley. Formerly a Newar Village Bandipur is now settled by a different caste group of Nepali people like Bahuns, Chettri, Magars, Gurungs and more. But this place is famous among the tourist as a destination to experience and enjoy the Newari culture. Not only this but people mostly visit this place for the attractions like Raniban, Siddha Cave, Ramkot Village, Thani Mai and Teen Dhara.
Janakpur
Janakpur is the headquarters of Dhanusha District. This city is located at the 123 km south-east of Kathmandu valley. Janakpur is the largest city in Terai and seventh largest city in Nepal. It is believed that Janakpur was found in the early 18th century. This city is also known as the "Capital of Videhas." Janakpur is mostly famous for its culture and traditions and the center of attraction of this city is the Janaki Temple which is built in 1910 AD but before people believe that in 1657 a golden statue of Goddess Sita was found and people start to believe Goddess Sita used to live here.