Nepal is a small yet beautiful landlocked country located in South Asia. It is a diminutive nation with the area of only 147,181 km2 but around 29.3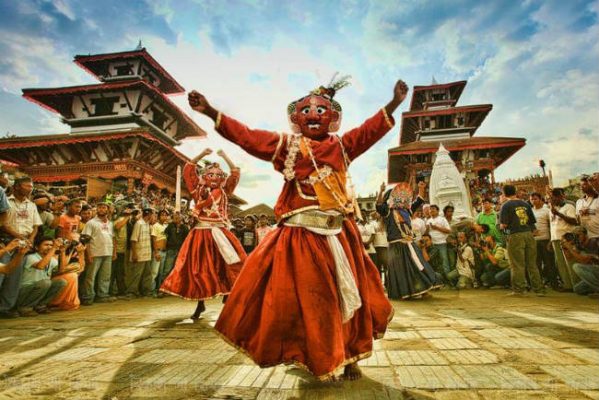 millions of people of different caste, culture, tradition and lifestyle dwells here. Bordering China in North and India in south, Nepal has a distinct geography that includes fertile plains, subalpine forest hills, Mount Everest (Sagarmatha) the highest peak on the earth and eight tallest mountains of the world. Nepal is divided into three regions with different climate (Mountain/Himalayan region: Cold, Hilly region: Moderate, Terai region: Hot and Humid). Unlike many other countries, Nepalese experiences five seasons: summer, monsoon, autumn, winter and spring. The Himalaya blocks cold winds from Central Asia in the winter and forms the northern limit of the monsoon wind patterns. Kathmandu, the capital city of the nation also known as "the heart of Nepal" is one of the most famous and loved destinations among tourists. The capital's own unique cultural and traditional values and great influences from creative architectures, nature and festivals might be some distinct features of Kathmandu potentially attracting travellers around the globe. Kathmandu is like a honeypot to the world that develops the curiosity about travelling inside people and make them visit Nepal at least once in their lifetime. Furthermore, there are numerous attractive and astonishing places inviting a heap of tourists have some lovely time in this heavenly land.
The substantial majority of Nepalese population follows Hinduism. Hindus in Nepal support various hindu mythologies related to the Lord of Lords Shiva who is believed to be the guardian of the nation. The great Pashupatinath Temple "Home of Lord Shiva", aspiration of millions and millions of hindus dwells here amidst Kathmandu. People with different caste and cultures, celebrates varieties of festivals according to their religion and tradition. The major festivals that people from Nepal predominantly celebrate are: Dashain, Tihar, Fagu Purnima (Holi), Loshar, Indra Jatra, Machhindranath Jatra etcetera. Non-residents and tourists find themselves fortunate to celebrate these carnivals with indigenous people of the valley during their stay in Nepal. Not only from cultural point of view but Nepal is also opulent in natural resources and its beauty. Varieties of natural attractions can be found here and you can surely earn a heartwarming gratification from it while visiting this beautiful nation. Some of the most attractive natural resources you can see while visiting Nepal are: Majestic Mountains, Sparkling River, wild and thick forest, glaciers and more.
Tourism in Nepal:
Tourism in Nepal is one of the enormous and quickest growing industries in Nepal. As Nepal is the land of mighty and majestic mountains and rich in other various natural resources like river and rivulets, wild and thick forest, lakes, etc. and as well as rich in cultures and traditions, this nation is successfully attracting and welcoming tourist from different parts of the world. Top 10 highest peaks of the world is located in Nepal so, mountaineering and other types of adventure tourism and ecotourism are important attractions for visitors. The world heritage site Lumbini, birthplace of Gautama Buddha, is located in the south west region of Nepal (which despite the name, is located in the center of the country) and there are other important religious pilgrimage sites throughout the country. The tourist industry is seen as a way to alleviate poverty and achieve greater social equity in the country.