Jomsom also known as Dzong- Sampa is the center of Gharpajhong Gaupalika an independent village development committee that lies in the altitude of 2700m in Mustang district. A Jomsom trek (North of Pokhara) reveals Nepal's spectacular diversity at its finest. The deep valleys and high mountains encircling the giant Annapurna Himal embrace a wide range of peoples and terrain, from subtropical jungle to a high, dry landscape resembling the Tibetan Plateau. The Annapurna region is one prominent trekking destination in Nepal, attracting over 75% of all trekkers (more than 30,000 annually). It's also among the tamest areas, with excellent lodges lining the main routes. Muktinath, one of the finest pilgrimage destinations of Hinduism lies at upper Mustang attracting over 20,000 of Indian pilgrims alone. If you have plans to visit Jomsom then these are the activities that you should not overlook:
Visit Muktinath Temple
Muktinath is one of the notorious and well known temples of Nepal. This sacred holy place is mostly famous among Hindus and Buddhists. Muktinath Temple lies in an altitude of 3710m. This temple lies in the foothills of Thorong La mountain Pass. Muktinath temple has Hindu origin but also carries significance for Buddhist followers. A revered Buddhist guru Padmasambhava meditated in the area of Muktinath temple. Thus Buddhist followers from all over the world visit Muktinath temple. Hindu followers believe bathing in the waters from the taps of Muktinath known as Muktidhara clears away the sins of life.
Travel to one of the windiest destination of Nepal, Kagbeni
Kagbeni the windiest place in Nepal is one of the prominent destination among the trekkers who visits Nepal. The wind of Kagbeni can be compared to medium scaled hurricane. This windy place consists of ancient tibetan monasteries, culture and tradition.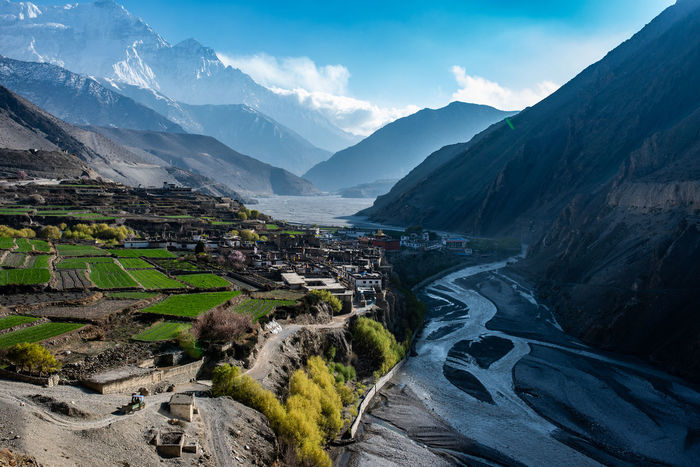 Dhumba Lake
Dhumba lake is one of the most attractive lakes that lies in the foothills of Mount Nilgiri. This lake is mostly sacred for Budhists. There is an interesting story about the sacred lake. Legends say that one day suddenly, the lake water turned blood red. Long after, Tibetan Buddhists performed religious ceremonies, and the lake returned to its former green waters. The water of this lake is green in colour, that is why Dhumba lake is also known as 'Green Gem' of Jomsom.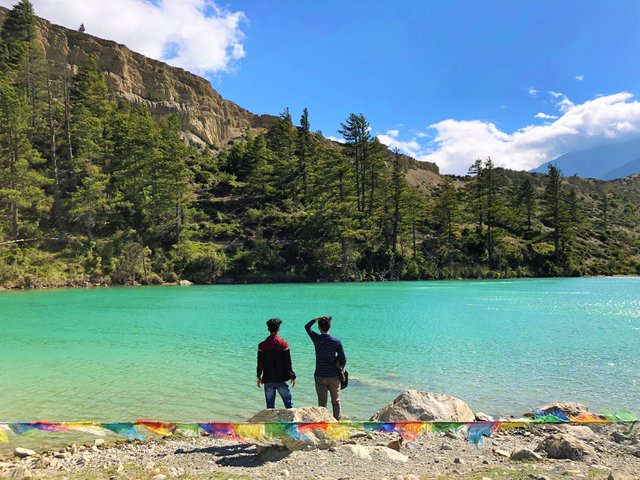 Kali Gandaki Gorge, Deepest Gorge in the world
The Kali Gandaki gorge is the deepest gorge in the world. The canyon is one of the major tourist attractions of Jomsom. The gorge separates major peaks, Dhaulagiri (8,167m) on the west and Annapurna (8,091) on the east. Kali Gandaki gorge has been used as a trade route between Nepal and Tibet for centuries. Today, the path is used as a trekking route from Pokhara to Muktinath.
Mountain Biking and Rock Climbing
Jomsom is vastly equipped with dry terrains and barren hills, and is a rousing destination for cyclists and Rock climbers. Tourists nowadays bring their professional mountain bikes and make videos of them riding through challenging hill slopes. Mountain Biking is fast becoming a daily activity for tourists in Jomsom. You can also try rock climbing in Jomsom. The lifeless vertical climb of nearby hills serves as heaven for rock climbers. The surrounding of Jomsom would be perfect for hosting either of Mountain Bike and Rock Climbing Competition.