Dashain :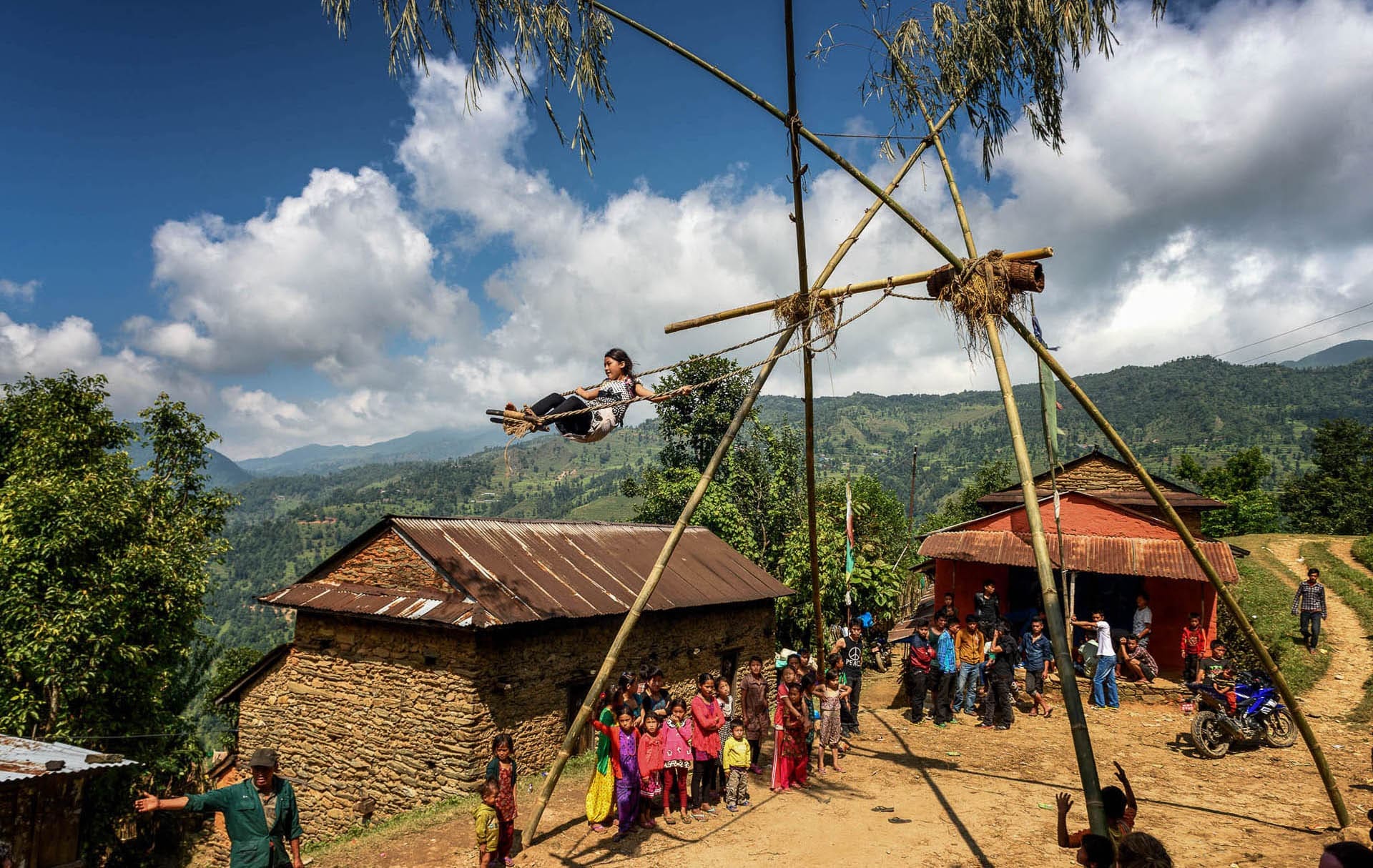 Dashain is the longest and biggest festival in Nepal celebrated all over the country. Festival starts with Ghatasthapana which means placing a kalash or pot for 9 days, symbolizing goddess Durga. After the seven days of ghataspathana the real dashain starts known as Phulpati followed by Maha Asthami, Maha Navami and Bijay Dashami. Dashain is the most important celebrations signifying the origin and faith upon Hinduism- the most prominent religion of Nepal. Along with Nepalese, tourists from all over the world are also coming together in Nepal to celebrate Bijaya Dashami to mark goodness over evil and light over darkness. Dashain is celebrated somewhere around mid to end of October or beginning of November. Not only the function but the season – Autumn also welcomes the visitors in Nepal to summon themselves to the natural tranquility and festive essence during Dashain.
Dashain itself is linked with many events of Hindu Mythology. It is believed that a terrifying demon named Mahishasura has had his reign during the era gods. The petrified Hindu deities then sought kindliness from Goddess Durga resulting a huge combat between the lords and the army of Mahishasura. The war continued for 8 nights and on the 9th day, goddess Durga conquered over Mahishasura and beheaded him to annihilate evil and darkness from the world.
Tihar
Tihar is the second bigges
t festival in Nepal after dashain. It is a five days long Hindu festival following Dashain is celebrated all over Nepal. Also known as festival of lights and colors, Tihar basically is the festival to worship animals for their various roles in Hindu Mythology. Crow, dogs and cows are worshipped in their respective days of the festival and are offered foods and garland. The crow is worshiped in order to avert grief and death in their homes. On the second day dog is worshiped known as Kukur tihar Dogs are known to be Yama guard and occupy special place in Hindu mythology.
Third day is Gai tihar and laxmi puga, early in the morning, cow is offered with food and in the evening, homes are decorated with lights, baked clay oil lamps and a special type of temporary paint made from red mud to welcome Goddess Laxmi -goddess of wealth in the respective houses of devotees. It is also believed that goddess laxmi only enters the well-lit house. The fourth day is for oxen known as Govardhan Puja, the Indigenous to Kathmandu- Newari community also performs Mha Puja (worshipping self). The fifth day is Bhai tika (day to worship brothers) where sisters put tikas on their brother's foreheads and give blessings and exchange gifts. A special traditional concert known as "Deusi and Bhailo" is also performed by all people young and old where they sing and dance on the tradition deusi bhailo lore. The house owner must offer sweets or money to the performers in order to receive blessings and wishes from them. Tourism in Nepal has been flourishing during Tihar due to the unavoidable joy, colorful and well decorated houses creating an amicable environment to travel.
Bisket Jatra (Biska Jatra)
Bisket jatra is a Newari festival celebrated in various places of the capital. It is mainly celebrated in Bhaktapur as biska jat
ra for a week. The Jatra was initiated at the time of King Jagat Jyoti Malla somewhere around 12th century. This festival starts with tantric ritual in the Bhairab temple in Bhaktapur and ends after the erected pole crashes down by tug of war between the Easterners and Westerners of the city.
This is the only festivals which does not follow lunar calendar. It ends with spiritual rites, Newari music, dances and merrymaking. Biska Jatra is one of the most unique and age old festival worth being a part of during Nepal Tour.
Rice Plantation day or Ropain :
Agriculture is one of the most important occupation in Nepal. One of the major crops to be cultivated is rice every
year during monsoon season. Rice plantation day also known as Ropain festival is celebrated on the month of June and July. In this festival all the farmers, interested domestic as well as international tourist participate in several paddy plantation events within Kathmandu and outside the valley. Farmers celebrate this festival by gathering, enjoy planting, dancing, singing and small feast between the plantations. On this particular day being dirty is a thing and mud splashing and wrestling is common. Don't be surprise if you see people dive into the muddy water and throwing mud at each other.
Haritalika Teej:
Haritalika is celebrated by women for 3 days in the month of August. During this festival, married women visit their maternal home. Mainly celebrated by Brahmins and Chettri women celebrate this festival joyfully for longevity of their husband's life. Women sit for a 24 hours long fasting, where they do not eat or even drink water. Unmarried girls also takes part in this festival in the hope to get a good husband in life.
Women visit Pashupatinath Temple and other temples of Lord Shiva on this particular day to worship Mahadev. Red is the color that symbolized this festival, women in red saree, bangles and ornaments women of all ages dance for hours in heat, rain without the drop of water or food for the entire day. On the final day festival ends after women satisfy seven saints offering them food, money and various offerings. The significance of this festival directly reflects struggle and compromises Nepali women have to go through and the divine love and respect they have for their husband.
Mahashivaratri:
Shivaratri which means "night of Lord Shiva" is a Hindu festival celeberated in honor of lord Shiva. During this festival Hindu devotees take a bath early in the morning and keep fasting for the rest of the day in the name of Lord Shiva- the creator and destroyer. They also visit temples to make offerings to Mahadev on this day. Devotees from India and all around the globe also rejoices with the locales during Mahashivaratri and visit Lord Pashupatinath. Shadus (Hindu holy men) chant "Om Nama Shivaya "and " Mahamritunjaya" all night praying for light over darkness. Curiosity does revel in the eye of tourist as the sadhu and baba, are colorful and naked sadhus are seen meditating while some Shadus are covered in ashes.
Holi :
Holi is celebrated as the festival of color and time to welcome the beautiful Spring Season again. During this festival Nepalese and foreigners are sheathed with colored powders from head to toe. There is also a practice of throwing colorful balloons filled with water among friends and families to jubilate the occurrence of Spring. In this particular day all the stores in Kathmandu valley will be closed. Durbar square and surrounding street will be full of water, colors, music and dance. Almost all people participate in this Holi festival. Holi also has significance to Hindu Mythlogy. It is believed that Holi represents the day in which Holika- the demoness of Hindu Vedic was burnt to death by Lord Vishnu.
Buddha Jayanti:
Buddha Jayanti is celebrated in the month of April-May to celebrate life of Gautam Buddha- the path maker of Buddhi
sm, his birth, enlightenment and Mahaparinirvana (death) which occurred in the same date (Baisakh- Sukla Poornma). It is a special day for both Hindu and Buddhist all over Nepal. During Buddha Jyanti visitors from all around the world come to visit Nepal especially his birthplace- Lumbini where Lord Buddha spent 29 years of his life as the prince of Kapilvastu. In Kathmandu there are two main stupas Swyambhunath and bouddha where devotees gather and make offering and honor lord Buddha. Buddhism followers also come together and roam around the city in groups to mark the knowledge provided by Lord Buddha that is believed to lead humanity towards kindness.
Indra Jatra :
This festival is celebrated on the month of September. It is the most exciting religious street festival, celebrated by Newari community of Kathmandu valley. This is the eight day long festival and embarks the beginning of a month-long festivals season of autumn. Festivals begins with the erection of pole made from pine at Basanta Durbar square located in Kathmandu valley during which the living goddess Kumari is displayed to worshippers and for procession on street. The festivals welcome autumn season with drums, masked dances known as Lakhay dance, and several religious enactments. It ends after the (lingam) pole bearing Indra flag religious ceremonies is lowered.
Maghe Shankarati:
Maghi shankarati is the first day of Magh month also known as maghi. It is believed the Maghe shankarati is the beginning of the holy season. Magi is the new year of tharu community of Nepal. Maghe shankarati also denotes of the delicious Nepali traditional cuisine like Til ko ladu (brown sesame seed fudge), chakku (molasses), Ghee (clarified butter) tilahari, spinach and yam's curry prepared and consumed on this day. It is also believed that people who die in this day go to heaven and get to be free from sufferings of life, death and reincarnation.